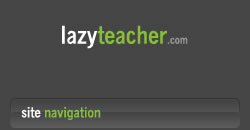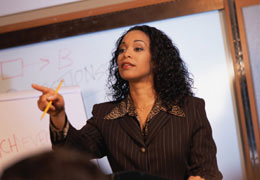 Becoming a Teacher
by Nat LaCour


Difficult, wonderful, exhausting, fun, stressful, enlightening, rewarding beyond compare: That's what you hear when you ask veteran teachers what their job is like. Then, when you ask veteran teachers if they would choose the same career if they could live their lives over, the answer is usually yes.

Teaching requires enormous patience, and there is no ready-made formula for good teaching. Studies on effective teaching demonstrate that there are nearly as many successful styles as there are successful teachers.

But there are some qualities in good teachers on which nearly everyone agrees.

Candidates for teaching should be:

* Among the highest academic performers

* Well versed in the subjects they teach

* Knowledgeable about how to teach

* Able to use different strategies

* Interested in ideas

* Committed to teaching and learning

* Eager to make a difference in students' lives

Many good teachers recognize that their strengths are valuable and needed outside the classroom. That's why we find many teachers who also are active outside school to serve their communities.

Bringing more diversity to the teacher corps is critical to improving education: Research suggests that some minority students do better when they are in classrooms with teachers of the same race and ethnicity. Encouraging highly qualified, highly motivated minorities to enter the teaching profession, therefore, can help close the achievement gap. Keeping those teachers, through mentoring and support during the first few years, is just as important.

Before thinking about becoming a teacher, remember that teaching is not just an opportunity to earn a paycheck but also a tremendous responsibility. Educated, motivated teachers can make a tremendous difference in the lives of their students. Each school year, dozens or even hundreds of students depend on an individual teacher to help them fulfill their potential and make the most of their lives.

Many new and mid-career teachers don't make teaching a long-term profession. Nearly half of new teachers quit within five years, and half of those who teach in urban schools leave within just three years. To borrow a phrase from American Federation of Teachers President Edward J. McElroy, "The schoolhouse door has become a revolving door." And that revolving door can do tremendous harm to students who need committed teachers who will be there year in and year out.

Preparing to Become a Teacher

Becoming a teacher requires at least a bachelor's degree, usually related to the field in which you plan to teach, and in most states some form of advanced training is needed. About half of teachers hold a master's degree. Some earn the advanced degree before entering the classroom. Many work on a master's degree after they have begun their teaching careers. Today's classrooms present teachers with more challenges and therefore demand a deeper understanding of successful classroom practices. Dedication and a desire to help children are important, but teachers also need a strong academic background and solid professional preparation.

Most large colleges and universities offer degrees in education, which are part of the certification process in each state. In an AFT report called "Building a Profession: Strengthening Teacher Preparation and Induction," we outlined our recommendations for those seeking to become certified teachers.

While our proposals generally exceed states' requirements, they demonstrate our belief that new teachers must be well prepared before they set foot in their classrooms and must receive professional guidance and support during their first few years on the job.

Here are some of our recommendations:

* Require an academic major so that teaching candidates have a firm grounding in the subject they are preparing to teach.

* Develop a core of pedagogical knowledge that all teachers should share. Today we have a body of knowledge based on new research, and the research evidence has led, for example, to a consensus that has ended the "reading wars." College-level courses that reflect this new knowledge will help young teachers make the important decisions about how best to shape their lessons.

* Strengthen the "clinical experience"-that is, the actual training on the job. Much of the practice teaching that prospective teachers get is brief (f O to 12 weeks) and it is often hit or miss. Spending an extended period in a well-run program, under the tutelage of a master teacher, would give young teachers an experience similar to the one that physicians get from an internship.

States, acting within the "highly qualified teacher" definition of the federal No Child Left Behind law, set the requirements for teacher certification. Decisions about hiring teachers, though, are made by local school districts. This means that teaching candidates need to consult a variety of resources to get more specific information. A good starting point is http://www.aft.org/teachers/becoming.htm, which includes links to licensure requirements in each of the 50 states.

Traditional and Alternative Routes to Teaching

There are various types of teacher preparation programs, including some aimed at mid-career professionals from other fields. Most teacher licensing and certification programs fit into the following categories:

* Four or five-year college degree programs in elementary or secondary education, which, upon graduation, usually lead to certification. These programs can vary greatly, depending on individual university requirements.

* Graduate programs for people who hold bachelor's degrees and wish to teach.

* Alternative licensing and certification programs in states with a shortage of teachers in a particular field. These programs tend to be short-term and intensive in order to get professionals into the classroom quickly.

Salaries and Benefits for Teachers

America needs a highly skilled, diverse teacher workforce, and most policymakers realize that good education begins with good teaching. Many states are raising standards for teacher licensing and increasing salaries to attract well-educated people who otherwise would be inclined to work in other fields. Generally speaking, teacher salaries have improved considerably in recent years, but salaries vary greatly from state to state and even by school district. The average teacher salary in Connecticut, for example, is twice that of South Dakota.

Teaching provides job security and offers a salary schedule in which earnings are based on years of experience and training. Nearly all school districts provide teachers with health insurance, paid sick leave and a pension plan.

Some teachers also receive a break on their student loans. The U.S. Department of Education has a variety of federal loan-forgiveness programs. Recent Stafford loan recipients who have taught for five years in a low-income school may be eligible to have up to $5,000 of their loan canceled. Stafford or PLUS loan recipients may have their loans deferred if they teach full time in a federally designated teacher shortage area for a minimum of three years.

In addition to those of the federal programs, most states offer loan forgiveness for teachers. For example, Florida's Critical Teacher Shortage Student Loan Forgiveness Program provides financial assistance to eligible Florida teachers for the repayment of undergraduate and graduate educational loans that lead to certification in a critical teacher shortage subject area. Georgia forgives certain college loans for those who teach in critical shortage areas. Tennessee offers loan forgiveness through the Minority Teaching Fellows Program. These examples suggest the wide range of loan forgiveness programs designed to encourage more highly qualified people to become teachers. To check on loan forgiveness programs in a specific state, visit http://www.aft.org/ teachers/loanforgiveness.htm or contact your state government's department of education.

While loan forgiveness is a possible benefit of teaching, the hope for long, lazy summer vacations is unrealistic for those entering the profession. Readers of THE BLACK COLLEGIAN are savvy enough to know that teachers work long hours during the school year and often during the summer, as well. For most teachers, summer vacation means attending seminars, conventions and conferences, teaching summer school, returning to college to stay on top of current education research, or working a second job to supplement their income. That said, most teachers welcome summers as an opportunity to recharge their batteries and to prepare for the next year.

Why Some People Decide to Leave the Profession

The most obvious reason that teachers leave the profession is that teacher salaries lag far behind those of many other professions. The AFT and others have made progress securing better wages and benefits for teachers, but there is still a long way to go. Low pay, however, isn't the only factor driving teachers away. Teachers are frustrated with school budget cuts, the constant pressure to do more with less, excessive bureaucracy, deteriorating buildings, growing class sizes that keep teachers from giving students all they need, and the failure of school officials to support teachers' efforts to maintain discipline.

School-board policies, site-based management and even school climate and culture can interfere with teachers' ability to do the job well and lead teachers to become dissatisfied with their careers.

Fortunately, many teachers strive to improve working conditions for themselves and their colleagues. They attend school board meetings and play an active role in the school's parent-teacher organization. They get involved in union work, take part in professional development committees and participate in labor-management teams.

Some teachers, on the other hand, wait until their exit interview to voice concerns about conditions that have worn them down and driven them from the profession. That's too late. By failing to address conditions outside the classroom, some teachers allow conditions inside the classroom to become intolerable, and they leave.

Ready to Take the Plunge?

If you're ready to make a serious long-term commitment to teaching, if you're confident that you can master the subject matter, if you will do whatever it takes to help children master the subject matter, then you're ready to be a teacher. Visit your college's school of education, contact your state's education department, or check out the AFT's Web site. As you can tell from the description above, teaching fits the Peace Corps' slogan: It's the toughest job you'll ever love.

A personal note:

When I learned that the editor of The Black Collegian had asked the AFT to tell readers about the profession of teaching, it brought back fond memories of my time as a teacher and local union leader in New Orleans, where the magazine is headquartered. My union wasn't the kind that spent a lot of money on furniture or office equipment, but, at some point, we decided it was time to buy new furniture. Rather than throw out the old furniture, we found someone who had even less money in the furniture budget than we did: THE BLACK COLLEGEAN, whose offices were nearby.

Both the magazine and I have come a long way since then, and I'm fairly certain THE BLACK COLLEGEAN no longer uses cast-off furniture. But the mission of the magazine is as important today as it has always been. I'm pleased to contribute this article in hopes that it will help Black college students and others interested in becoming teachers.

Note: Portions of this article were adapted from information on the AFT Website.

Nat LaCour is Vice President of American Federation of Teachers (AFT).